Computer Repairs
We carry out computer repairs on laptops and PCs (Windows, Apple, Chromebooks, Linux or anything else) and we're here to help with any problems you might have – such as broken screens, Operating System issues, data recovery, virus & malware removal, hardware repairs, etc. We can also assist with laptop and PC servicing & upgrades to get your PC running super-fast.

So whether your MacBook needs a new screen, your HP has stopped turning on, or your Dell is running at a snail's pace - we're here to help.
Laptops and PCs for sale
We invite you to visit our Groeslon store to take a look at the wide range of refurbished laptops and PCs we have for sale. We can help you decide what sort of laptop suits your needs best, and if we don't have something that's quite what you're looking for, please have a chat with us, and we can either source or custom build something bespoke for you.

We stock a large range of makes and models from all the big names, with Lenovo, Dell, HP, Samsung, Asus & Acer being the most popular.
Gaming PCs and Peripherals
We pride ourselves on our custom gaming rig builds. From entry level gaming PCs that are budget-friendly to machines powerful enough to kick-start the universe and everything in between! We can build your perfect rig and involve you in the entire process from idea to reality.

Get in touch today to chat about your specific requirements (spec, budget, your favourite games, etc.) and let us build your dream gaming PC for you! Check out our Facebook page to see photos of our latest builds.

We also have a huge selection of gaming accessories, such as RGB mechanical keyboards, gaming headsets, webcams, microphones, and loads more.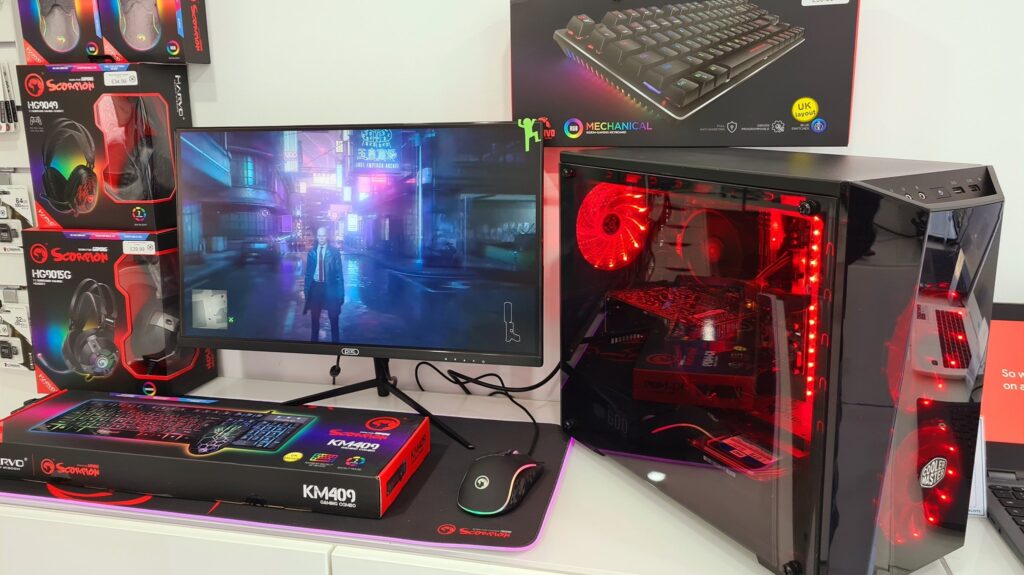 Home and Office Call-Outs
We offer a call-out service too – we understand it isn't always practical for you to come to us, so we can come to you! We cater for both residential and business customers. Whether you need us for a small job like a slow computer or internet problems - or bigger jobs like installing IT infrastructure in your new office or setting up large mesh networks, we're always at the end of the phone, ready to help.

Get in in touch to see what we can do for you today.